ACE MATHS WITH CONFIDENCE!
Welcome to our self-learning math portal, where students can explore and master complex heuristic problem-solving concepts at their own pace! We offer a range of courses designed to provide the best learning experience for our students. Each course features prerecorded video lessons our skilled Math specialists conduct, ensuring students receive top-notch instruction. Our courses are organised to address individual areas of priority and weaknesses, allowing for focused learning and maximum learning gains. Embrace the flexibility of self-paced learning and unlock your true potential in problem-solving with our comprehensive courses. Start your journey towards math excellence today!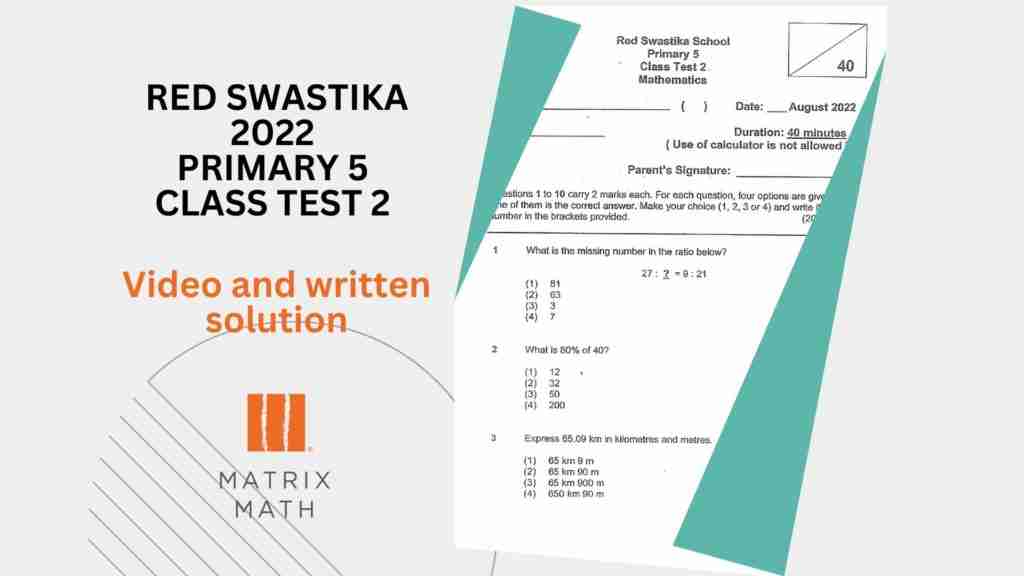 RED SWASTIKA 2022 PRIMARY 5 CLASS TEST 2
Unlock the potential for excellence with our meticulously designed video solution, tailored to provide an in-depth understanding of RED SWASTIKA 2022 PRIMARY 5 CLASS TEST 2. Our course is meticulously crafted to ensure a comprehensive grasp of the subject matter. Pricing Details: Regular Price: $10: Experience top-tier educational support at an accessible rate. Promotion Period: Until the end of 2023, enrol for just $5 and seize this limited-time opportunity to excel. Course Highlights: Video Solution Excellence: Engaging video tutorials provide step-by-step guidance through each problem, ensuring conceptual clarity. Comprehensive Written Solutions: Downloadable written solutions accompany every video, facilitating detailed practice and reference. Extended Access: Upon purchase, enjoy a full 360 days of access to the course materials, allowing for thorough review and practice.