2022 June Holiday Programme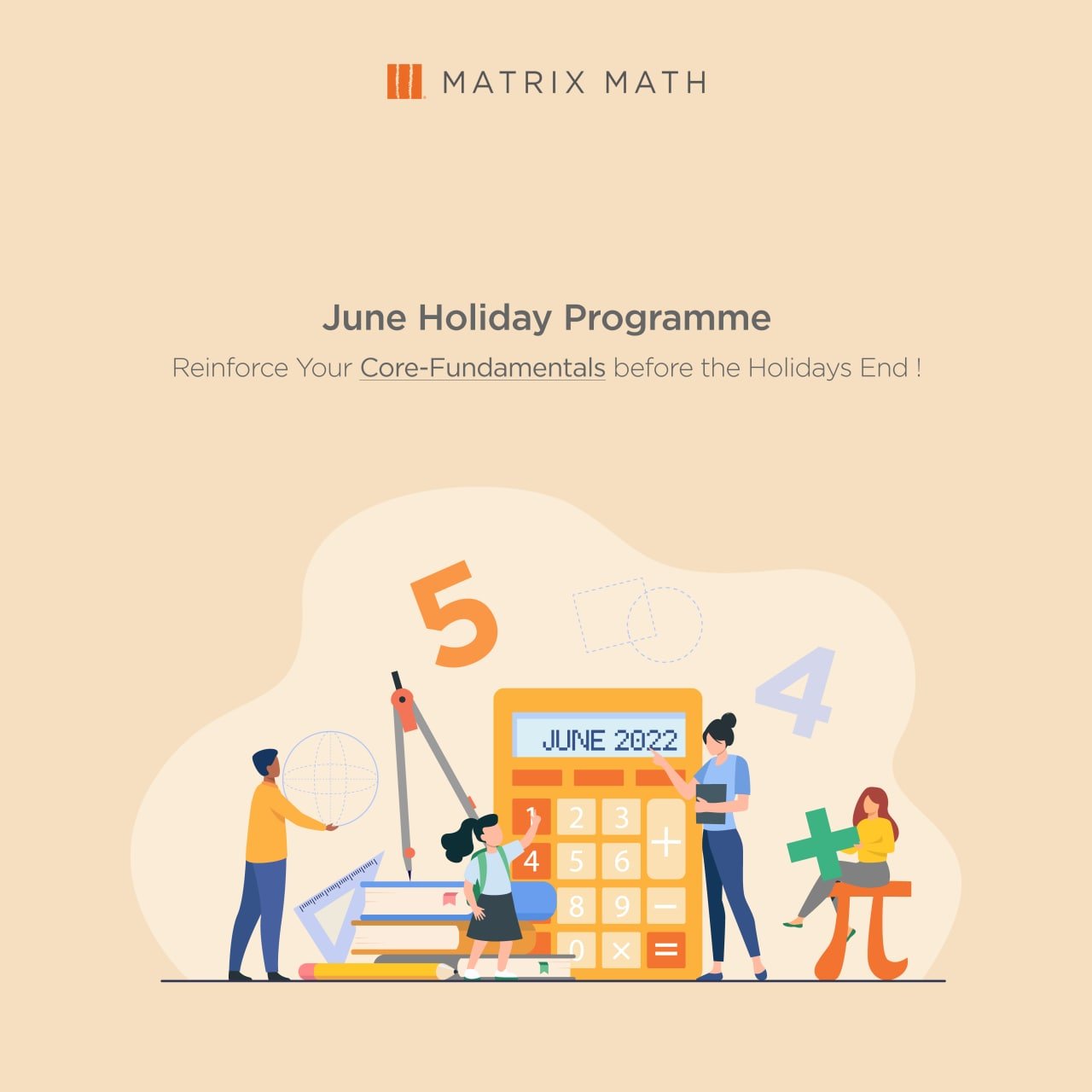 For this June 2022 holidays, Matrix Math® has designed a short course for all our students. This is a focus course that targets the core heuristic concepts that are commonly tested.
This June holiday programme will provide current students a strong reinforcement of what they have already learnt. For new students, it will provide a clear overview of the basic building blocks of heuristic questions and students will learn how to tackle these questions systematically and efficiently.
Number of lessons: 2 x 2.5 hours lessons
Fees:
$280 (Matrix Math students)
$290 (non-Matrix Math students)
Number of lessons: 2 x 2.5 hours lessons
Fees:
$280 (Matrix Math students)
$290 (non-Matrix Math students)
• Expansion and factorisation of quadratic expressions
• Changing the subject of a formula
• Solving Quadratic equations
• Linear Inequalities
• Number Patterns (Sec 1 topic – revision)
Number of lessons: 2 x 2.5 hours lessons
Fees:
$340 (Matrix Math students)
$350 (non-Matrix Math students)
• Indices & Standard Form
• Quadratic Equations
• Functions and Graphs
• Area & Volume of Similar Figures
• Trigonometry
Number of lessons: 2 x 2.5 hours lessons
Fees:
$340 (Matrix Math students)
$350 (non-Matrix Math students)
• Quadratic Functions
• Equations and Inequalities
• Surds
• Polynomials and Partial Fractions
• Binomial Theorem
• Coordinate Geometry
Number of lessons: 2 x 2.5 hours lessons
Fees:
$340 (Matrix Math students)
$350 (non-Matrix Math students)
• Algebraic Manipulation
• Inequalities & Indices
• Application in Real World Context
• Bearings
• Trigonometry
• Set Notation and Venn Diagram
• Probability
Number of lessons: 2 x 2.5 hours lessons
Fees:
$340 (Matrix Math students)
$350 (non-Matrix Math students)
• Quadratic Functions
• equations and Inequalities
• Polynomial and Partial Fractions
• Exponential and Logarithm
• Trigonometry
• Differentiation
• Indefinite Integral
• Integration of Trigo and Exponential Functions